US-produced fabric and locally printed custom tees
The black tee
It's not just a shirt to us.
We touched all the fabrics, tried them on, and were stoked to witness the first run of our tees.
They are perfectly soft, fit great, and the print quality is outstanding!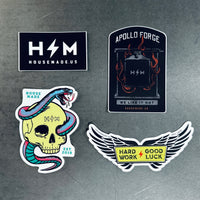 supporting our workshop
HouseMade Merch
I've said it before and it'll always be true: quality matters. The tees will last and the stickers are rugged & waterproof. Every item in our store is there because we would use it or proudly wear it ourselves.
Shop Apparel
Shop All Merch